StoneTapert Insurance Services focuses on enhancing workplace performance through best-in-class employee benefit insurance solutions.
Every employer is different. Each has different goals and workforce dynamics. StoneTapert Insurance Services customizes benefits programs to fit the needs of each employer. Through our unique process, we spend time to understand client objectives, identify program options that will meet workplace goals, develop a strong plan and implement and maintain a successful program.
We are well-acquainted with the diversity among employers and their workforces throughout Los Angeles County, Orange County, Riverside County, and San Bernardino County. Employers range in size from 2 – 2,500 employees. We support a wide range of businesses to include manufacturers, distributors, contractors, professional services, non-profits and foundations. As a result, we have deep experience with employer benefits which allows us to ask the right questions to develop the best plans.
StoneTapert Introduces Super Benefits Program for Employers
Employee Benefit Options
StoneTapert Insurance Services offers a wide range of benefit options. Our deep experience and strong vendor partnerships allow us to offer premier programs to privately-held and entrepreneurial organizations otherwise reserved for large corporations. From Fully-Insured and Self-Funded Plans, Voluntary Benefits and Retirement Programs to Claims Management, HR Support and Industry Benchmarking, we can provide insight and consultation that will help customize a comprehensive solution to every need.
Customized plans can include:
Fully-Insured & Self-Funded Plans

Super Benefits Plans (No Deductive, No Co-Pays, Pays 1st Dollar)

Medical, Dental, Vision, Life, Disability

Executive Benefits

Life Style Accounts

Voluntary Benefits
Wellness Programs

Medicare Supplements

Retiree Plans

Contribution Strategy & Design

Claims Management

PEO Consulting

Industry Benchmarking
Supporting Employers Nationwide
Licensed in 43 states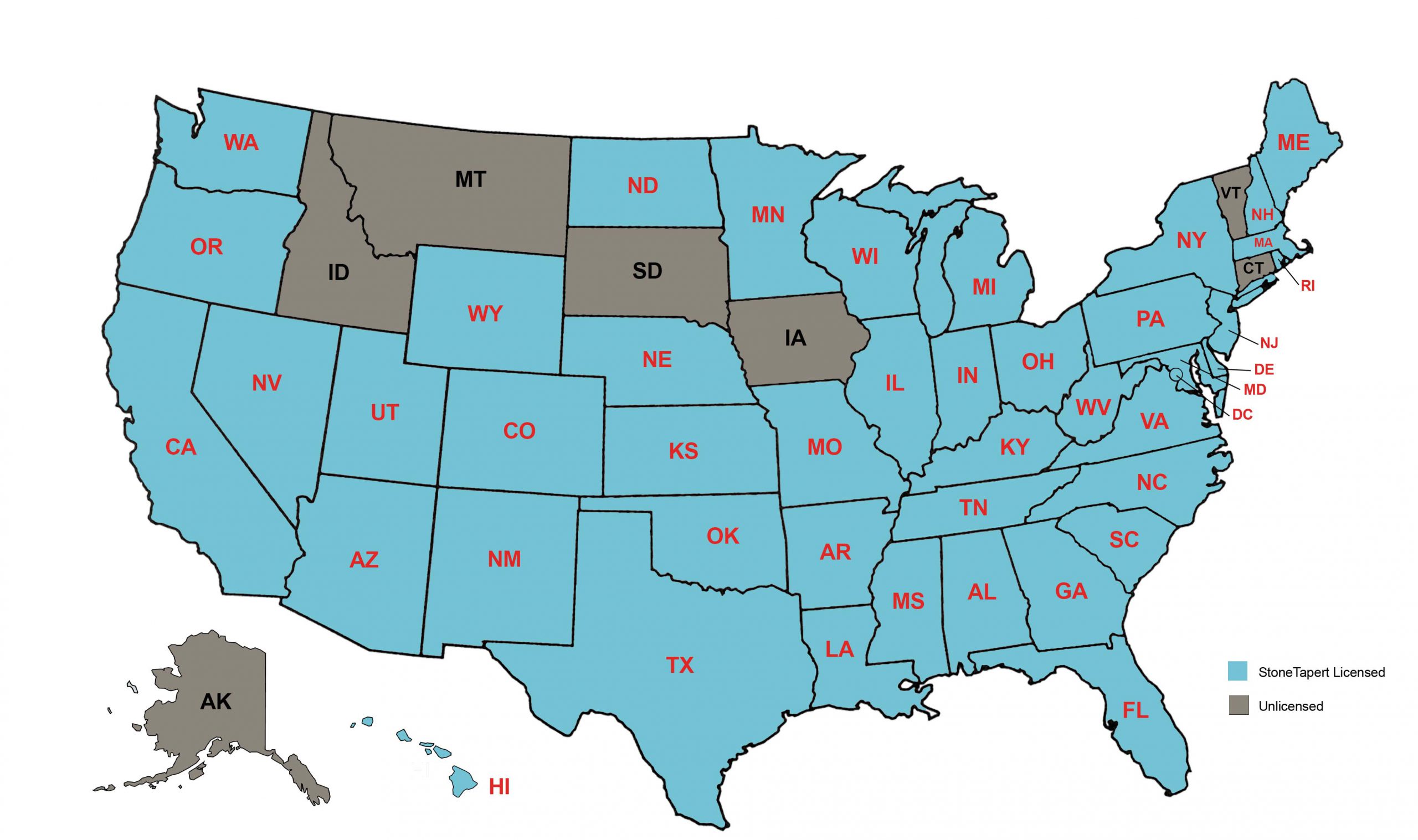 Contact StoneTapert Insurance Services to customize an employee benefits package that works for you.